Saturday Late Morning: So That's What Became of . . . ! Tour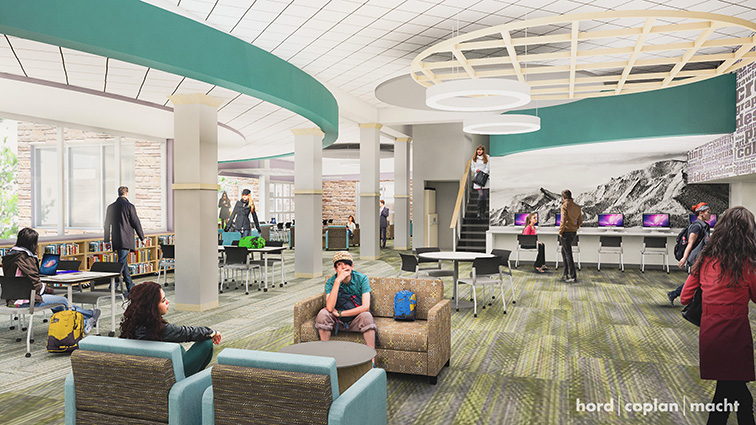 Do you know where this is in BHS?
Late morning tour of the renovated and expanded Boulder High School
Location: Boulder High School Front Steps
Time: Start at 11:00 a.m. until 12:00 p.m. Then stick around for the picnic.
Huge new gym, new football field and press box.

What? Sturtz and Copeland is gone? New science wing?

Shop and Arts building is history? Sand volleyball pit? Softball field?
Park on the EAST SIDE of BHS -- See map below.
•
Saturday Noon: Picnic for Catching Up and News and Story Swapping
Gather by the Bridge for Burgers (real and veggie) and snacks, soft drinks, and good cheer


Noon picnic will be on the new terrace at the north entrance of the BHS Boulder Creek Bridge to the football field


Time for laughing, reminiscing, story swapping
Location: The new terrace at the entrance of the bridge over Boulder Creek to the football field
Time: Start at 12:00 p.m.
Burgers (real and veggie) and chips
Soft drinks and bottled water
Bring memories and pictures of kids and grandkids


Jog any Memories?

Courtyard pep rally

&nbsp

•

Park on the EAST SIDE of the school, in the parking lots entered from 17th Street. These are faculty lots when school is in session. Finally, we get good parking.

Parking for the Saturday Tour and the Noon Picnic

&nbsp
Great to See You Again! Evening Banquet: This is the big event.
Entrance to the Ballroom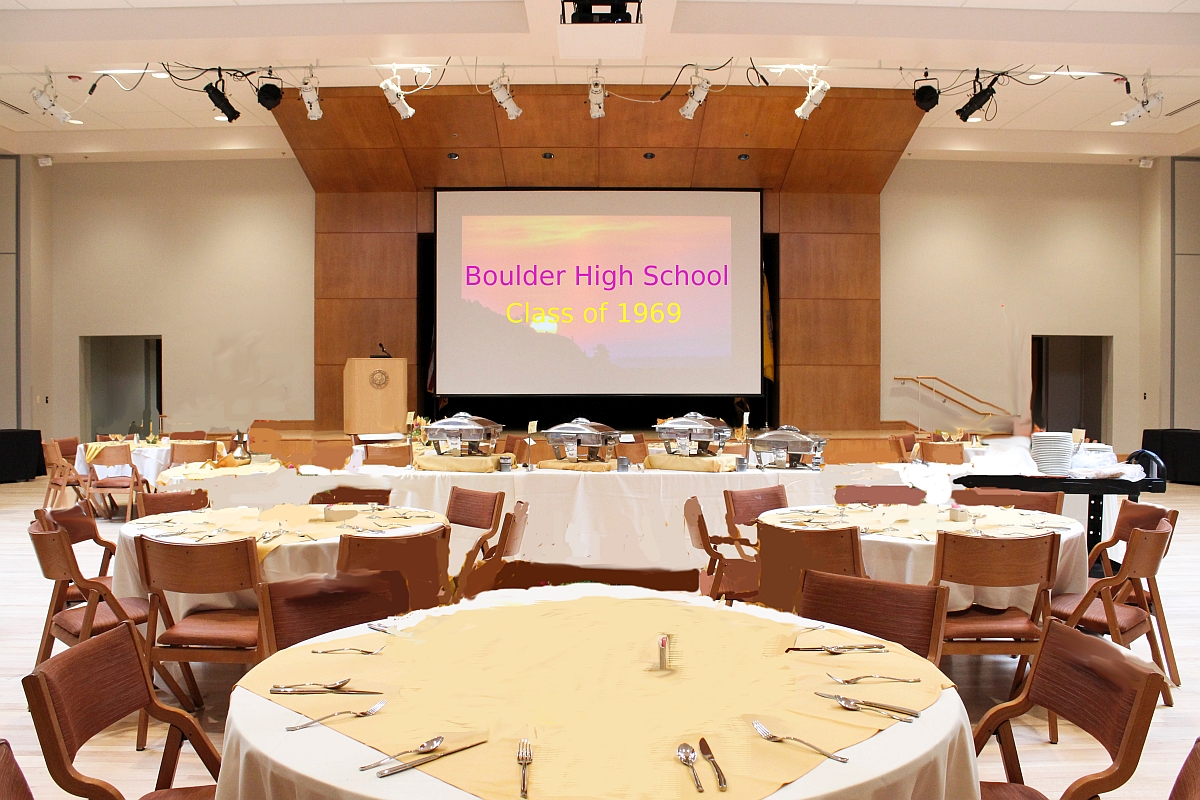 Buffet Dinner followed by Memory Lane Show
We Have the Entire Ballroom
Location: We will have the entire wonderfully renovated Glenn Miller Ballroom in the UMC on the CU Campus.

•

Menu: Premium Buffet with both Vegetarian and Non-vegetarian specialties.

•

Time: 5:15 p.m. until 10:00 p.m.
5:15 p.m. to 6:00 p.m.

Socializing,

6:00 p.m.

Start assembling for reunion photograph,

6:30 p.m. to 7:45 p.m.

Premium Buffet Banquet (starts after the photo session)

7:45 p.m. to 8:30 p.m.

Reflections & Projections

8:30 p.m. to 9:45 p.m.

Special Program: Ken Bell has agreed to be the Master of Ceremonies and narrator for the special
"Run Down Memory Lane and Quiz"
music and slide show presentation on the big screen.
Something not to be missed!

9:45 p.m. to 10:00 p.m.

Wind Down & Departures
•

Banquet attire: Prefer Business Casual. Gentlemen wearing ties will need to have a good excuse.

•

How to get there:

Address: 1669 Euclid Ave, Boulder, CO

See map below.

•

The Glenn Miller Ballroom is directly off the huge patio on the south side of the UMC.
Simply go through one of the many sets of doors off the patio into the UMC.
If the Ballroom is not in front of you, bear right.

•

Parking: Some parking is across Broadway from the UMC.
Use the large pedestrian tunnel to go under Broadway and directly to the UMC.

Or, use the large parking garage due east of the UMC. The cost will be about $5.00


Map to Saturday's Banquet in the Glenn Miller Ballroom
at the University of Colorado Memorial Center